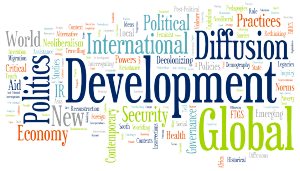 Twenty-first century crises, disasters and upheavals have ignited worldwide interest in social change and international development. Events such as the American mortgage crisis in 2008, the austerity protests in Athens, Arab Spring and the Occupy Movement, and food shortages and famine in historically fertile areas such as India and East Africa have heightened public awareness of global economic restructuring and sparked debate among scholars over the social benefits and consequences of international development programs and policies. This course will draw on interdisciplinary resources and perspectives that examine the historical foundations that shape international development programs and policies, and it will introduce sociological and anthropological theories that will help students investigate the relationship between global economic restructuring and social change. 
The first part of the course will establish the socio-historical foundations that inform contemporary development programs and practices such as colonialism, global economic restructuring, and international relations. The second part of the course will address how international development processes interact with local social systems to create unique, and oftentimes, unpredictable, outcomes. The online web lessons (comprised of text, videos, and links to outside resources) that make up this site are intended to complement the material presented in the readings which will provide introductory theories and concepts related to development-based mechanisms that underlie social change. This site includes a digital class calendar that copied or downloaded  to any smartphone or laptop. The 'Whats Going on This Week' blog will provide a timely overview of the topics, deadlines, and expectations for work submissions each week.
Students will be evaluated via participation in online discussions, four writing assignments, two exams, and one exploratory project comprised of a digital presentation and accompanying paper. Assignments, supplemental course materials, grades, and announcements will be posted on Blackboard, and all work must be submitted through Blackboard to receive credit. Students are responsible for familiarizing themselves with the Blackboard system as well as this website. Online does not mean ALONE – Students are also encouraged to take advantage of internet resources such as Google Hangouts and other social media mechanisms to interact, engage, discuss and study together.
Before moving forward, tour the course website, read the course syllabus, and explore the Blackboard learning system. If you have any questions or if the format seems confusing, please post your questions on the Class Communication Forum so others can benefit from the answer. If you have questions about your personal performance in this course, protect your confidentiality by emailing me directly.
Reading
Discussion
Upload a video introduction of yourself. What is your major and why are you taking this class? What type of international development problems concern you the most?
When you complete the discussion, move on to Development Theory